B&R Enclosures is achieving some surprising wins from their Industry 4.0 strategy.
Australian manufacturers have had to evolve to remain competitive in a marketplace that is now truly global.
B&R Enclosures are no different, having experienced a great deal of change over 65 years as Australia's largest manufacturer of enclosures, racks, cabinets, switchboard building systems and hazardous area equipment.
To deal with these challenges the organisation has chosen to provide a wide range of standard, off-the-shelf products as well as custom solutions to suit specific application needs for businesses and Government entities within Australia.
They are now using this expertise to successfully service requirements throughout the world.
"Competing against overseas suppliers, who have an advantage of high volumes and low labour costs, is something that we have been tackling for decades," states Chris Bridges-Taylor, General Manager at B&R. "We focus on delivering value and recognised early on that we had to learn and adapt to be competitive."
Learning to evolve and change quickly, has allowed the company to focus on taking an 'overall value' approach in solving customer problems.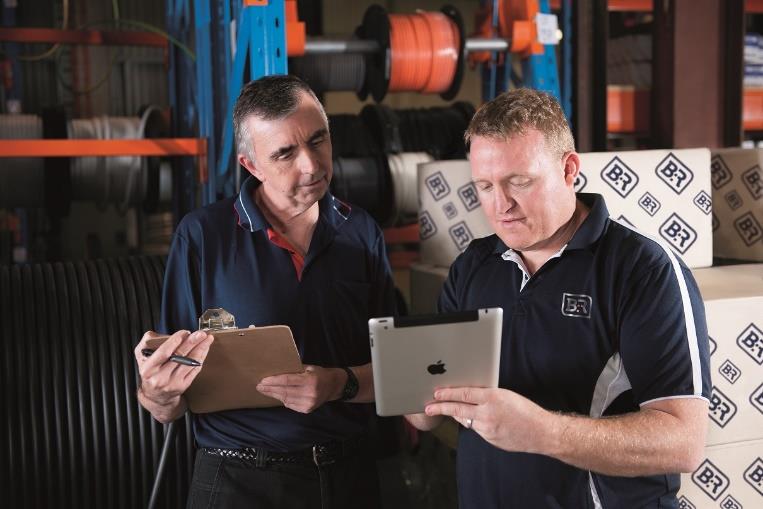 "B&R have a strong heritage of producing high quality products that our customers can rely on," says Bridges-Taylor. "By learning how to be 'agile' we not only retained our position in our traditional markets, we have taken advantage of significant new opportunities that have supported our growth."
As part of this direction, four years ago, B&R Enclosures started proactively investing in a strategy of Industry 4.0 and have been on the journey ever since.
B&R's first digital transformational project focuses on improving the factory floor by making information transparent throughout the production process to improve decision making, lower costs and increase service.
"The data that is communicated in real-time has allowed the manufacturing part of the business to become aware of log-jams on the production line. Prior to that we didn't understand why jobs were taking longer than expected," states Bridges-Taylor.
B&R attributes a 15% saving in manufacturing time across the board and reaching an achievable DIFOT (delivery in full, on time) of 100% to the focus on their Industry 4.0 strategy. B&R's second project applies Industry 4.0 principles and technologies to product design and development to achieve digital continuity, reuse of information and real-time collaboration.
According to Bridges-Taylor, "Our largest contracts are being won through our 'agility' to deliver customised orders quickly and deal with 'variations'. Many large contract customers place orders regularly that in the past presented unreasonable time-frames, and whilst still challenging, we are now able to better manage our processes and resources to still deliver as required."
Both projects represent a shift from large production-centric manufacturing of commodity products towards a more customised, smart and competitive manufacturing model.
According to Chris Bridges-Taylor, this company-wide strategy has provided some surprising and valuable paybacks. "As well as the customer-centric benefits of moving in an Industry 4.0 direction such as reduced lead times and operational efficiency, our internal culture has evolved as employees in both the office and workshop get on board. Most of our team has been with us for years. Instead of staying in one job, many are now proactively learning new skills and seeking more knowledge and involvement to drive continuous improvement and participate in better decision making. While individuals are gaining professional and personal growth, this situation is good for our customers and good for the business."
Australian Industry Group: The Fourth Industrial Revolution: Australian businesses in transition (August 2019)